SOL OTTOSSON – THE WINNER OF ISABELLESTIPENDIET 2013
Today it was time to actually present the winner of this years Isabellestipendium. The scholarship I started to acknowledge all the female handy women in Sweden. There is still a pretty rough climate for all female carpenters, painters, plumbers, set designers, bricklayers out there. And I'm hoping this prize can start a conversation and make some change in the building sector.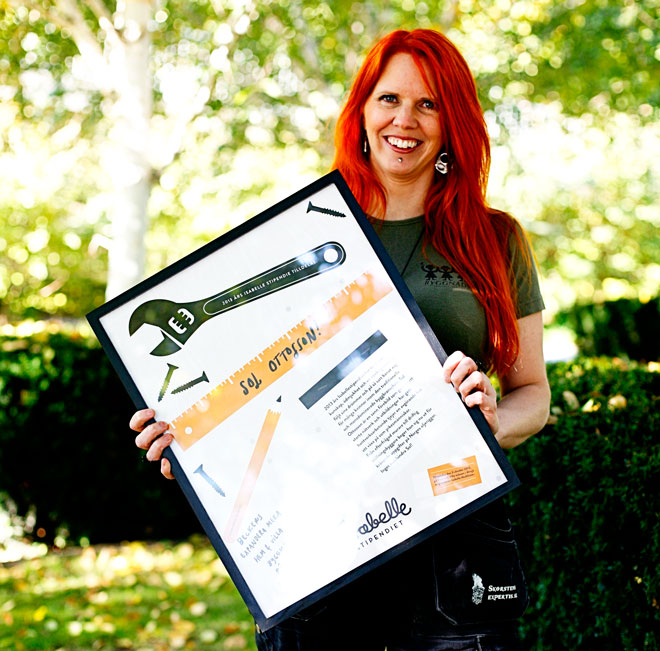 This years winner is called Sol Ottosson. She is a bricklayer and scaffolder who has been working for womens rights for a long time. Her next job is going out on offshore rigs, hanging high building scaffolding! Congrats – Sol!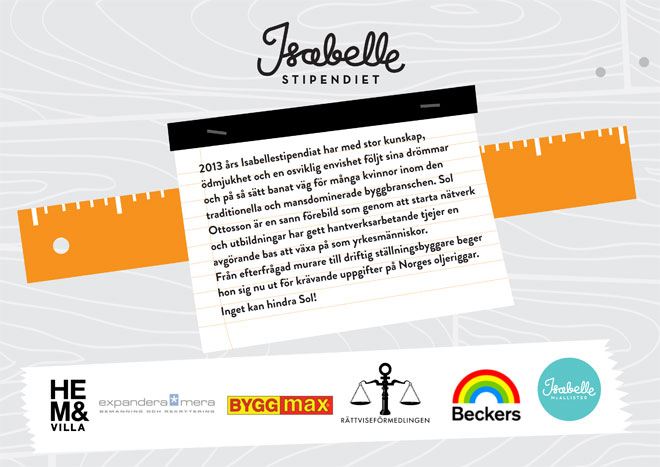 The prize is sponsored by Hem & Villa, Byggindustrins byggbemanningsföretag Expandera Mera, Byggmax och Beckers – Thank you for helping us out!
I also work very close to the Swedish Rättviseförmedlingen – called Equalisters in English. Equalisters is an equality project aiming to correct the imbalances of representation in media, culture, business and other contexts. We believe that when it comes to including competent women and people from other underrepresented groups, excuses that claim that "there just weren't any", are no longer good enough.
Read more about their genius job here.
Also a special thank's to Åsa Hammarström who makes all the great art work!
And Johanna Broman who, solid as a big pirate ship has guided this boat to the shore! Big kisses
Isabelle