MY WALLPAPER COLLECTION FOR MR PERSWALL.COM
Last half year I have been working together with Mr Perswall to make a special collection and in middle of April we launched them! It has been so much fun. I guess the whole process started with the book and being in the kids zone. Just thinking about what would be great for a playful mind. The cloud above is actually a cushion that I have made and then it's a photograph of it that turned into different wallpapers. I guess the clouds is a classic – and this is a twist. All the images me and Jenny made at her house – remember this post?
Mr Perswall ship world wide and the wallpapers are digitally printed and you can make them in any size you want!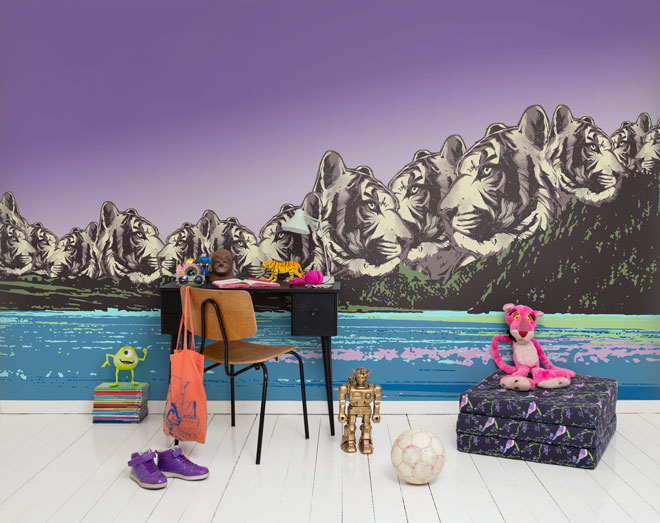 In the beginning I had an idea of some punk kind of mountains and then I got a vision of Tigers- cause kids love them right? I call this one Mount Tigermore.
The big Robot is completely an inspiration and a follow up on Jenny and Jens fantastic work with these big toys that they made as a photo story for the magazine MAMA. I also borrowed Jennys spray painted golden Robots and they made a great detailed photo of it and changed them at Mr P. They now come in two different shapes.
I mean who doesn't want a huge Robot at home? And thank you Jenny!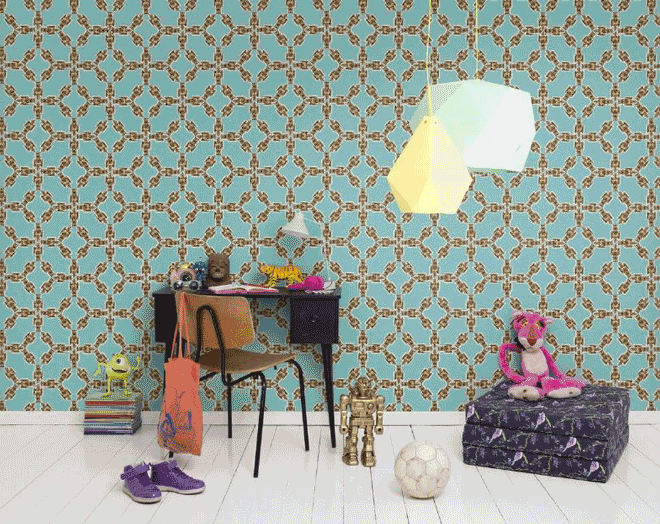 These are the Robots but as a pattern.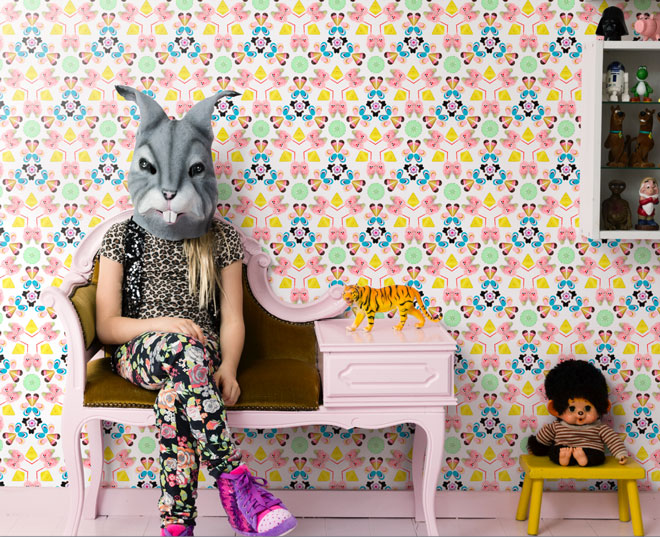 These patterns above and below are made out of my old collection of scented erasers that I call "The smell of magic". My dad saved a big box of them on his attic and when I found them I got ecstatic. They are so cool. So I made one with a kaleidoscopic touch, a alphabet or just use the letters to spell a name or tagline that you like. And then a random all over print. That one also comes with a purple background. Viola – Jenny's daughter has a test of this wallpaper in her wicked cool room!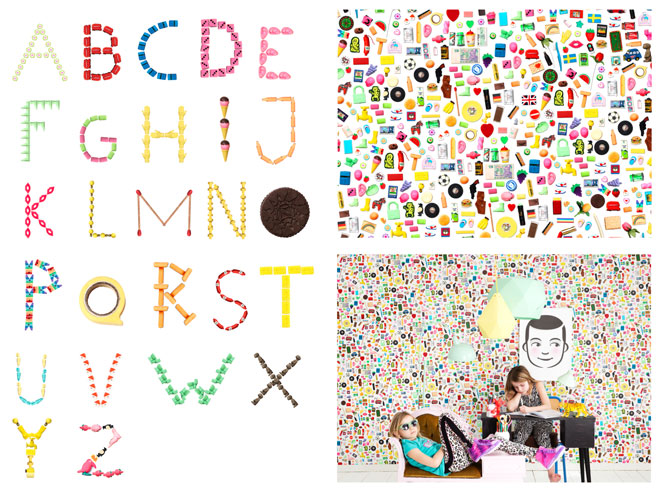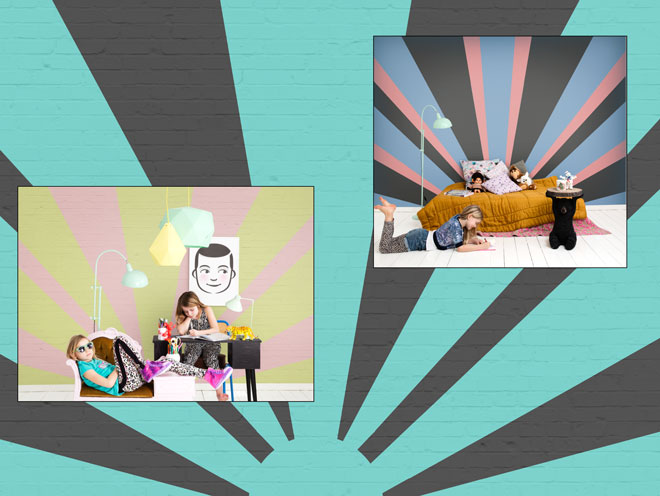 Well I can't really take credit for coming up with this "Epic Sunrise" pattern but it's a great one and I made some color combinations and I like the idea of the brick wall to layer it all up.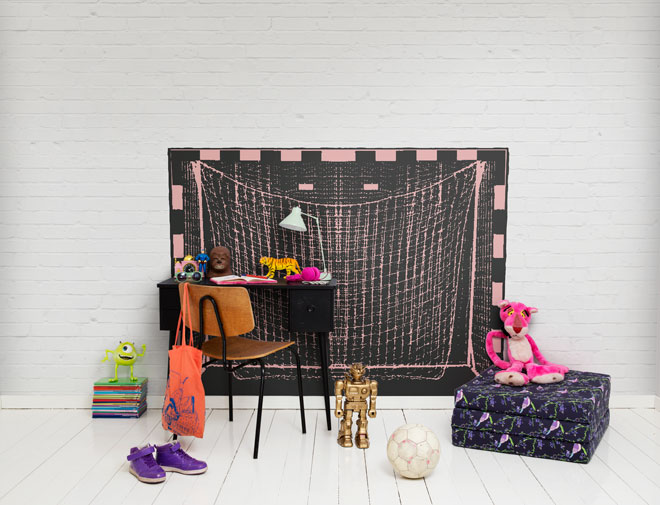 This one comes from thinking about all these sport loving kids out there. Use a soft ball and play inside! This is called "Come on let's play" The cool thing is since you order the wallpaper by any size you want. Make the goal a cool headboard for a bed or a gigantic goal for playing inside?
You can also buy the goal, cut it out and glue it on another wallpaper or a painted wall or the garage door.
I'm a bit messy at home and one day I left my necklaces laying on our floor. I just thought it looked great. Also reminds me about summer.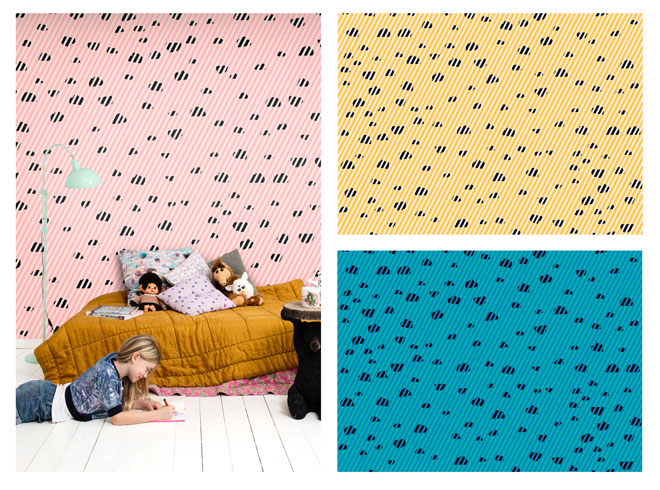 This one is actually a mistake- we made something else and hit a wrong button on the computer – suddenly I was just like – stop! Love this 'Stripey Leopard'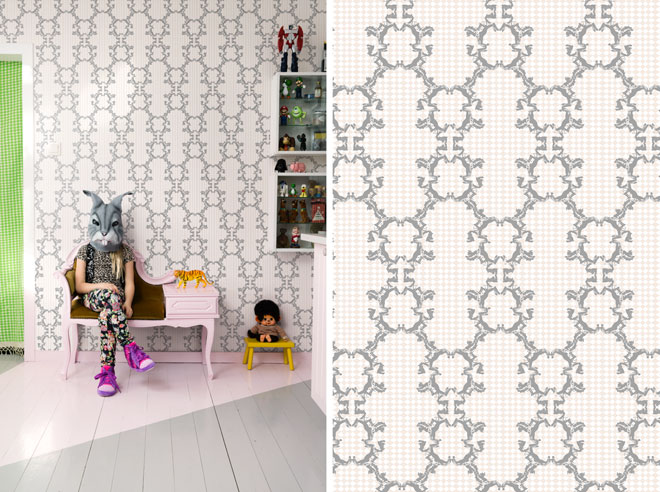 I also like the idea of a classic pattern from far and then when you look close you see the horses. Remember when I lost my bag on the train? In that bag was the horses that we wanted to photograph and the necklaces above, the cloud and some robots. So lucky I got it back! You can find the "I Love Horses" wallpaper here.
Hope you like them?
xx
Isabelle