ISABELLE MCALLISTER GÄSTKOLLEKTION FÖR ELLOS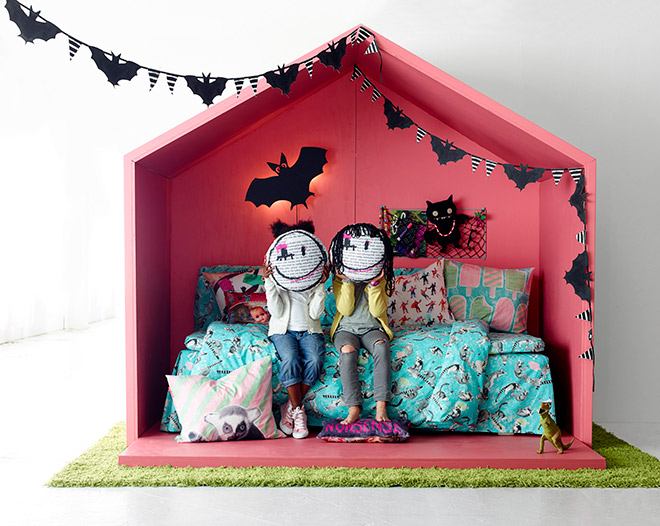 August 2014:
My collection for the Swedish giant Ellos is finally out! We have been working on it on & off for about a year. I've really been trying to picture what I think the kids will like. And so far the ones I met love it which makes me so happy! I just hope the parents will see it too – as you know grown ups have more of a problem with colors and craziness 'Lemurs eating ice cream kind of things'.
The collection is mostly textile but also a lamp and storage.
And naturally it's both for girls and boys – it's simply a collection for funky kids!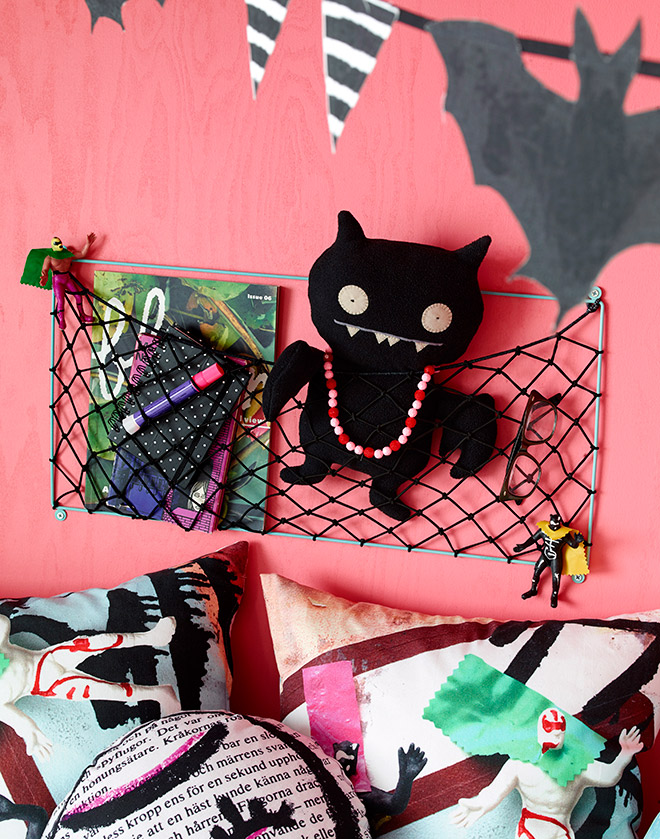 This storage is inspired of the train and airplane pockets. Great to put up next to a bed or up in a bunkbed since it doesn't take up much space. It costs 149 kronor (about 18 Dollars) and you can find it here.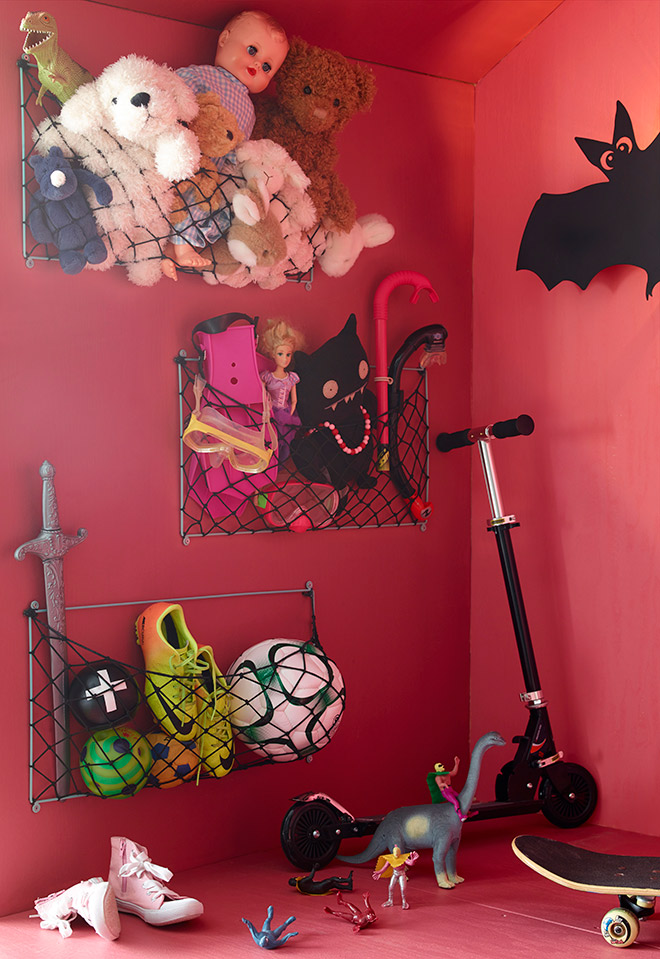 It can also be good in a hallway for caps and gloves and such. Or simply to organize all these different things kids use.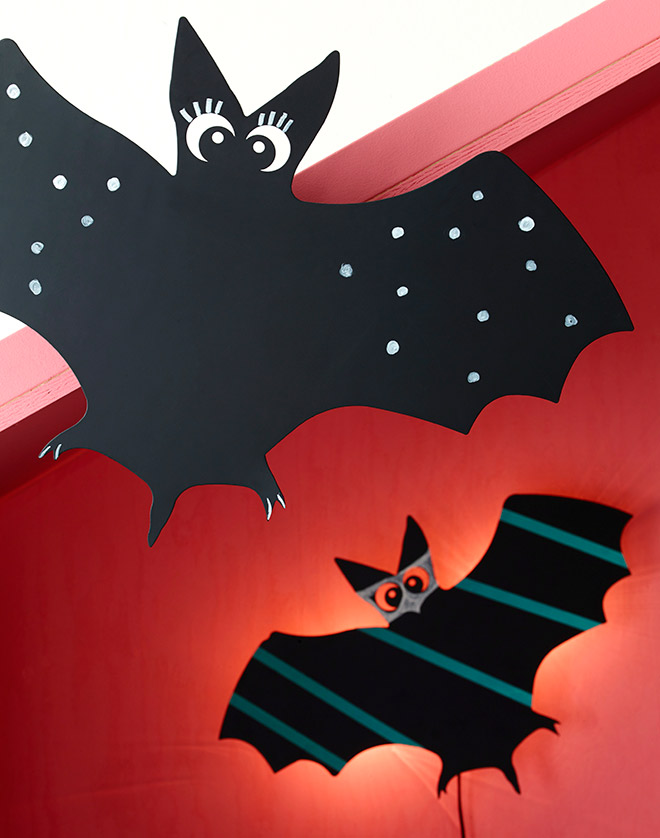 This bat- lamp can also be used as a messageboard. You can write on it with chalk or a white board pen! It cost 399 kronor.
The bats are also a garland (199 kronor). In a room I think it adds alot if you put something up – kind of high by the ceiling. It's like the room gets more depth. The stripes are the pattern from the lemurs tails.
I think all kids somehow like animals and ice cream. But I was growing tired of tigers and Jenny had taken all these photos of Lemurs so she was kind enough to let me use them! For the colors I was thinking washed-out surf colors.
Extra pillowcase with a big lemur and ice cream
The idea with the all over print on every item is that you don't need to make up the bed. It will still look nice. Also lot of people tend to have a spare mattress at home so the sheet with the elastic makes it look better. You can also use all of it behind the bed as a sort of sofa with the bed skirt as an extra point of this idea. The duvet cover comes with a pillowcase.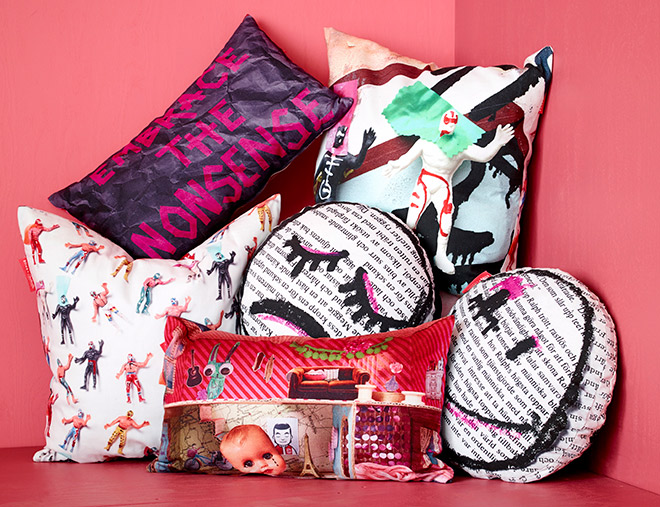 I also made some pillows. This x-mas I went to Mexico and got a lot inspiration from there with the wrestlers pillow. And one of the pillows is actually as a little box/doll house and has the Dosfamily mantra Embrace the nonsense at the back. The round smiley has a happy side and a angry/sad side. I'm hoping the kids can communicate with it or fight with it if they need. Also as you can see in the pic on top – it's possible to paint the pillow or sew on some hair! They cost from 99-129 kronor.
I do hope you like it all!
It's been fantastic working with such a great pro team at Ellos and I learned alot! Thank you Sofia, Ulrika & Jonas for making me feel so welcomed and putting so much faith in me! xxx
Isabelle