Ansök till Isabellestipendiet 2014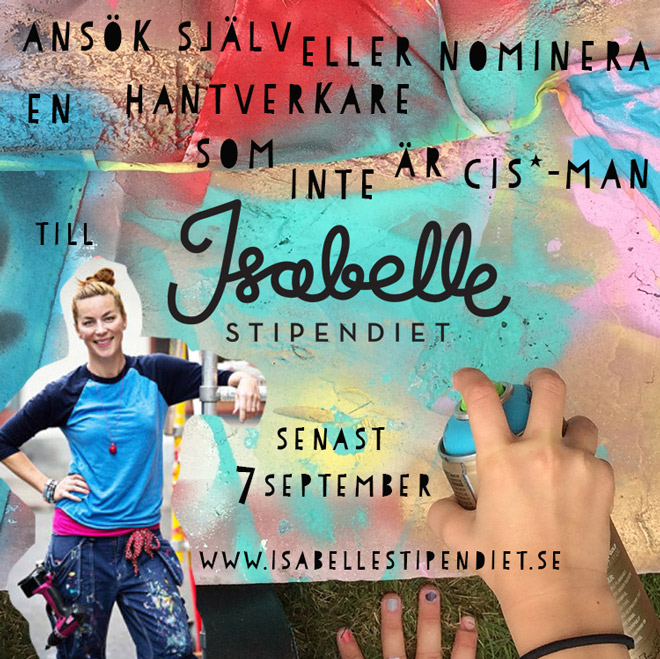 For the fourth year I'm doing the Isabelle scholarship to boost Swedish handywomen. Since it's only here in Sweden I'll continue this post in Swedish!
Hej!
Idag startar ansökningsperioden till Isabellestipendiet 2014.
Med stipendiet vill vi uppmuntra fler kvinnor att utbilda sig till hantverkare och lyfta de som redan är yrkesverksamma. Eftersom byggbranschen är starkt mansdominerad tror vi att kvinnliga förebilder kan leda till en mer jämlik bransch, som i sin tur höjer kompetensen och gynnar arbetsklimatet. Målet med stipendiet är också att medverka till diskussion om hur vi i framtiden vill att byggbranschen skulle kunna se ut.
Stipendiaten får äran, 20 000 kronor samt presentkort och priset delas ut på Hem& Villa mässan den 2 oktober 2014.
Tack till våra sponsorer ExpanderaMera, Hus&Hem, Hem&Villa, Byggmax, Svensk Byggtjänst och Beckers!
Allt överskott går till Rättviseförmedlingen.
Ansök själv eller nominera någon du känner.
Det gör inget om du har sökt tidigare – bara gör det igen!
Gå in på vår nya sida för med info isabellestipendiet
Sprid gärna detta vidare!
Lycka till!
hejhej
Isabelle
*cis = till exempel om en känner sig som en kille, är det enligt folkbokföring och myndighetsdokument och är född med en kropp som ser ut som en killes oftast förväntas göra. Ordet cis betyder "på samma sida" på latin.
Ps, A special thanks to Jonk at Follow me Darling who built the new Isabellestipendiet for us!
He also helped us with dosfamily site & my isabelle.se portfolio!